The intent in undertaking this work was to point out and express an inherently unfair dichotomy of life:
The one who has, doesn't want/ the one who wants, doesn't have!
In order to understand the symbolism in this dichotomy, it is best to view the pair of diptychs as a four-panel unit.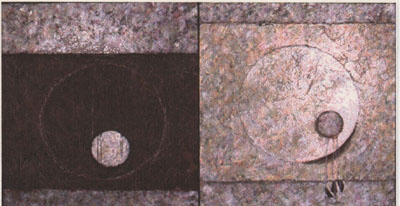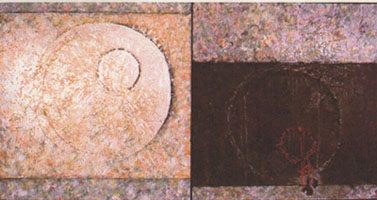 They are hung separately, yet close together, in two groups of two to express the "before" and "after" of each of the two situations:

The first, a woman experiencing an unwanted pregnancy and an abortion;
The second, a much wanted pregnancy and a miscarriage.

The basic symbolism is:

The circle of Being (the woman)
The inner circle (the womb)
The dead fetus (below the woman)
The rectangular aura bounded by collaged string (the mood enveloping the woman)
the world (the multi-color gray rectangular areas above and below the aura).

In each of these panels, these elements and the colors used are altered to add meaning to the total concept. The "world" color remains more or less constant--a complex color with a neutral tone--for the world is not terribly moved or changed by what happens to one individual--not for long anyway.