Suites~ the concept
The concept of painting multiple-canvas suites based on my response to, and interpretation of, a particular composer's work came from a sudden inspiration. I had been requested to do several smaller works for a solo show to complement the larger sizes in which I usually work. I had stretched four smaller canvases of varying dimensions and placed them on my studio floow in order to contemplate how I would approach their accomplishment.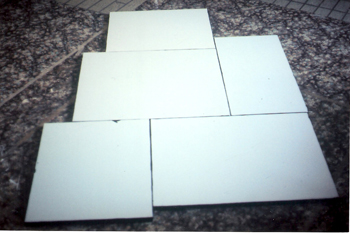 As it is customary when I work, the strains of classical music wafted through the studio--fortuitously, a symphony. Although my eyes were focused on the four canvases, my mind drifted from the task at hand to responding to the music surrounding me. Suddenly a thought came bursting through: a symphony is a musical composition of four (or more) parts in which each part not only stands alone but also contributes to the whole. The whole, therefore, becomes one unified composition, greater than the sum of all its parts. Could I do the same in paint? Could I PAINT a symphony IN FOUR PARTS?!
Thus ended my attempt to produce small works for that show. Instead, I painted larger works comprised of four or more small sections!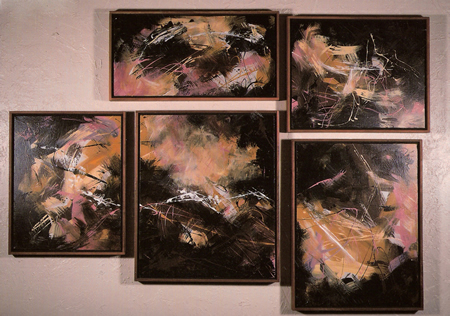 Development
As I contemplate painting a particular symphony, my first step is to decide on the size of each canvas and relate it to the "size" (length or impact) of the corresponding movement in the symphony. The most important movement is the largest. Next, the canvases are arranged in an interesting composition. The third movement, most iften a dance movement lighter than the others, usually floats above the second in the composition.
Then come the colors. The hues I select must be in keeping with the overall "color" (mood) of the symphony: bright, vibrant, somber, lively, sophisticated--whatever. While each of the chosen pigments is used in every canvas, the intensity or tome changes in keeping with the particular movement.: a lilting movement in lighter, airier tints; an earthy one in shades of deeper earth tones; a somber one would be darker, grayer.
Then while listening to music, I organize the composition on the floor of my studio and start laying in the basic colors, pattern, and tempo flowing from one canvas to another. Collage, if used, contributes to the unity of the suite by continuing in adjoining movements. Next, each canvas is worked at the easel in order to correct and develop the individual compositions, then put back with the other canvases for further refinement.